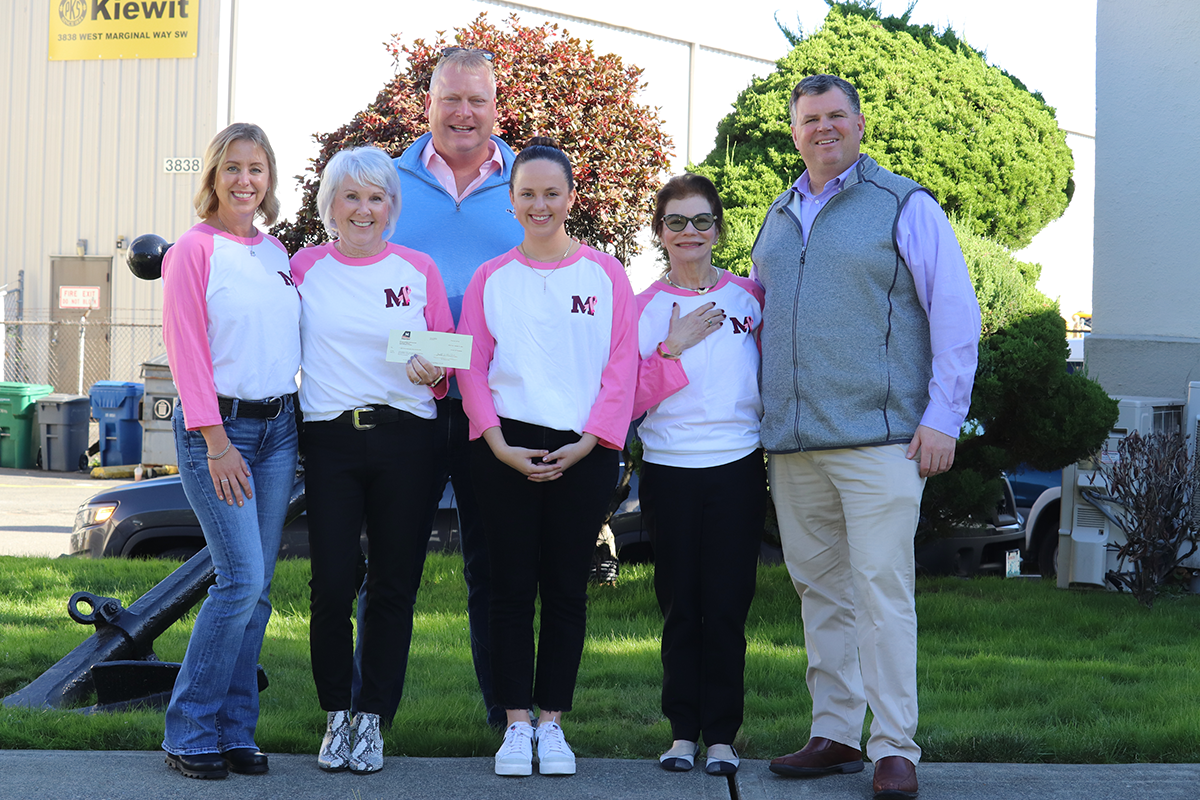 Every October, Moran and its subsidiaries go pink, painting our iconic "M" and displaying pink ribbons on our assets. We actively join events like "Making Strides" to support the fight against breast cancer and make donations in the communities where our personnel live and work. This tradition started when a crewmember in New York Harbor requested to paint a pink ribbon on his tugboat in 2014 to honor his wife battling breast cancer. President and CEO, Ted Tregurtha, approved this gesture, and it soon spread to all Moran's port locations, symbolizing their support for employees during challenging times.
This year Global Diving & Salvage, a Moran Towing subsidiary, selected Northwest Hope & Healing Foundation as the recipient of Moran's annual corporate donation toward this cause. Northwest Hope & Healing is the sole organization in Seattle dedicated to offering immediate financial assistance exclusively to breast cancer patients. Their mission is to provide much-needed support to individuals and their families during challenging times, alleviating financial burdens such as food, utilities, and childcare. The nonprofit expressed, "We would like to extend our heartfelt gratitude to the Moran Group of Companies for their unwavering commitment to raising awareness for breast cancer and to Global Diving for their thoughtful selection of Northwest Hope & Healing as a partner in supporting local breast cancer patients. Your dedication to this cause will make a significant difference in the lives of those struggling financially after a cancer diagnosis. Thank you for your generous support and for being champions of breast cancer awareness and patient care."
Breast Cancer Awareness Month is close to all our hearts and is something the Moran Group of Companies observe every year. President and CEO of Moran Towing Corporation, Ted Tregurtha, stated "I'm moved by our employees' dedication during Breast Cancer Awareness Month, a journey that started with a single pink ribbon on our 'M' has transformed into a nationwide movement. The active engagement from walks and runs to heartfelt donations, showcase our collective commitment. Since 2014, our employees have been the driving force behind this initiative, touching the lives of countless individuals. As a reflection of our employees' passion and our expanded commitment to this cause, I'm pleased to announce our corporate donation to the Northwest Hope & Healing Foundation based out of Seattle, WA."
Moran is honored to collaborate with Northwest Hope and Healing to support cancer patients in their time of need. This donation emphasizes our dedication to giving back to the community and making a positive impact in the fight against breast cancer.
To learn more about our company-wide commitment to raising awareness and supporting those affected by breast cancer. Watch our Breast Cancer Awareness Month video recap.
---
Comments: