Moran's Focus on America's Energy Resurgence
Once inconceivable, America has become an energy independent nation, doubling crude production in less than a decade. This transformation into the world's dominant producer and supplier of crude oil and natural gas has triggered a production boom in chemical and petrochemical facilities along the eastern seaboard and the Gulf Coast.
Moran has been actively participating in this industry upheaval, committing substantial resources to service the transportation needs of those in the petroleum, chemical, and related industries. We have many years of experience navigating the sometimes wildly volatile energy industry and pledge to continue to be here as your partner to help you weather the good days and the tough days alike.
Moran's Commitment to Oil and Chemical Transportation
Moran is currently carrying over 55 million barrels of crude oil and finished petroleum products annually. We intend to continue taking advantage of our nation's energy resurgence, recently completing a $200 million investment in three new articulated tug and barge units (ATB's). These vessels were built specifically to provide swift, safe, fuel efficient transportation for the crude oil, fuel oil, clean products and chemical trades.
Our Safe, Fast, Fuel-Efficient Fleet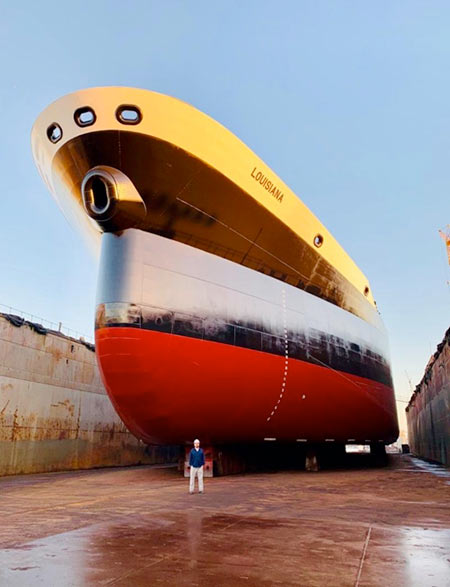 Moran operates a diversified tank barge fleet and we are currently carrying crude oil, gasoline, distillates, jet fuel, residual fuel oil, liquid fertilizers, caustic soda and even water. Our petroleum fleet consists of nine ATB's and three conventional tank barges, each of which are manned with fully qualified crews and maintained to the highest industry standards.
All vessels are double hull and range in capacity from 40,000 to 160,000 barrels. Our newest ATBs have been built with state of the art technology including the latest safety and environmental features such as inert gas systems, vapor control systems, tank washing and ballast water treatment. Moran's ATBs are sleek and fast and extremely fuel-efficient. For detailed information about our fleet, please click here.
Obsessed with Safety
Moran conducts all of its operations with the highest level of competency and is fully certified at every applicable level while maintaining International Safety Management (ISM) certification. In addition, we are routinely subjected to the most rigorous customer vetting procedures which grade and rank the company's safety culture, its management, overall fleet profile and crew experience and expertise relative to our competitors.
On top of that, we regularly undergo specific vessel and office audits including:
Tanker Management and Self-Assessment (TMSA),
Six month Ship Inspection Report Program (SIRE) inspections
USCG and American Bureau of Shipping audits
Our safety statistics, audit and inspection results, and Risk Management Systems demonstrate our commitment to safe operations. Without fail, we are ranked among the industry's safest and most desirable charters. For more information about our safety obsession, please click here.
An Experienced Partner
With our many years of experience and our ongoing plans to continue to expand, Moran has the capacity and the desire to become your energy partner – whether you require transportation services along the U.S. East Coast or the Gulf of Mexico.
Come On Board with Moran
We are dedicated to safeguarding our employees and our environment. As custodians of your cargo, we pledge to make every effort to deliver your freight in a safe and professional manner. If these things matter to you, let's talk. If they really matter to you, let's have lunch – on us.